Meeting Promotions as Gracious as Savannah Herself
We aim to take worries off your plate, one by one, and providing deals that benefit your entire group seems a great place to start. Our programs are well-known for offering attractive enticements, including breakfast upgrades and savings for small groups.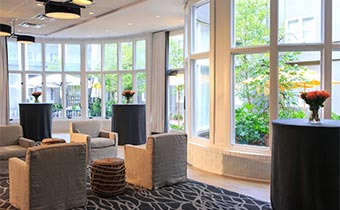 Complimentary Kick Starts
Enjoy a complimentary reception for you and your group.
Min Spend: $8,000
Stay Dates: October 1 - December 31, 2016
Book By: December 1, 2016
Spirits Up. Party Down.
Crafted cocktails + seasonal eats…get you ready to mingle. Choose from one of our three holiday party packages when you host your event now through January 31, 2017.
Small Groups Save up to 30%
Our definition of a small group is about 6 - 25 guestrooms. Think corporate groups, weddings, reunions, or a friend's getaway. We're ready to help you with your event and even save you up to 30%!